Click an image to enlarge

This year started off fast in terms of paintings, then things slowed down due to working on a few commissions, dislocating/straining my thumb on my painting hand, intensive writing ) short stories and poems) and putting together a large exhibit for a show in Bellingham.
--
--- SERIES I --- "Old Gods and Totems"
I closed the old year and have begun 2014 with an exploration of totems, worshipers, and gods.
--- SERIES II --- Paintings to go with my poem "Quantum Physics"
There is and will also be more paintings that go along with my poem:
Quantum Physics:
A quirky love story told in three parts, which is more about sorrow and escape and the moment a little redheaded-girl learned to walk through walls after discovering the limitations of a half-rusted machete.
---Series III --- Book cover for
Larry Crist
.
This is a series of studies I did for a book cover Larry Crist's book for "Undertow Overtures." It went from many stages until I captured the core of what Larry was trying to describe to me.
--- SERIES IV --- "Forgotten Land"
The fourth series I have worked on this year stared May 22nd, 2014. The "Forgotten Land" series that focus on flowers blooming where buildings and man-made structures once stood.
Some might see a negativity in it due to the lack of human habitation. I see it as a positive that the planet will find a way to bounce back.
Within this series you can also note that the palette I am using features more blues and grays. At its core, I am using the same colors as previous paintings, but in this case, these colors have been muted by the gray undertones and the predominance of blue.
Q: Jude Adebosoye Ogunade the canyon and the flowers...are they on a single theme...is that a continued composition? Duane?
A: Thanks for the question Jude - It is a single theme. The world has titled - be it over population, genocide, climate change, disease - to the point where humans have almost disappeared from the plant. The flowers signify the plant slowly healing itself.
---
Please note: All paintings are sold unframed.
The artist retains reproduction rights on all paintings/sketches/images created purchased and purchased.
---
All Paintings in this album © 2014 By
Duane Kirby Jensen
.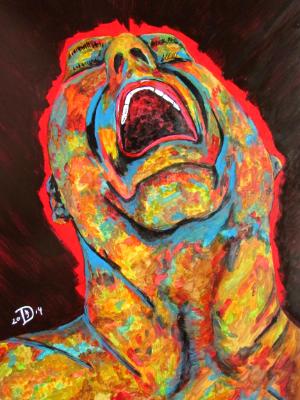 Beneath his calm facade, the artist screams as people demands pull him this way and that until time itself hit's 00:00.
$300 (sold)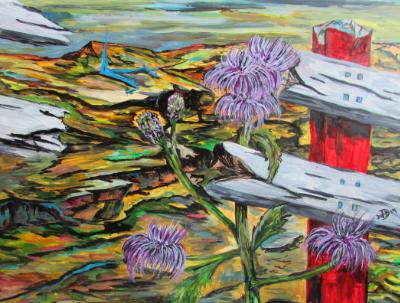 The Thistles Shall Welcome the Honey Bees and the Honey Bees Shall Bring the World Back into Bloom.
$200 (sold)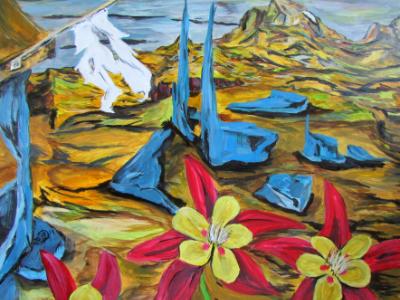 Columbines Bloom at the Final Outpost as the Winds Whistle Through the Treeless Landscape that Once was Cedar Scented. © 2014 By
One Green Leaf Strives to Recite One More Poem into Twilight Bared Teeth That Hungers for the Last Taste of Fauna © 2014 By Duan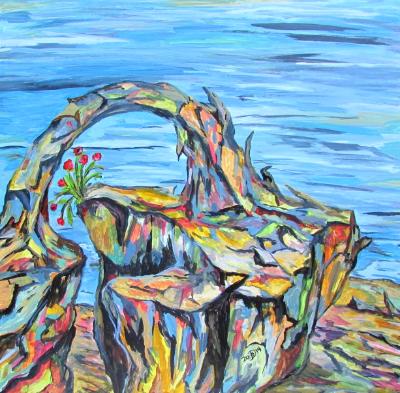 Hanging on the edge of hope © 2014 By Duane Kirby Jensen, 12 x 12 inches ( 30.5 cm x 30.5 cm) ink on claybord
Be the first to
post a comment
.