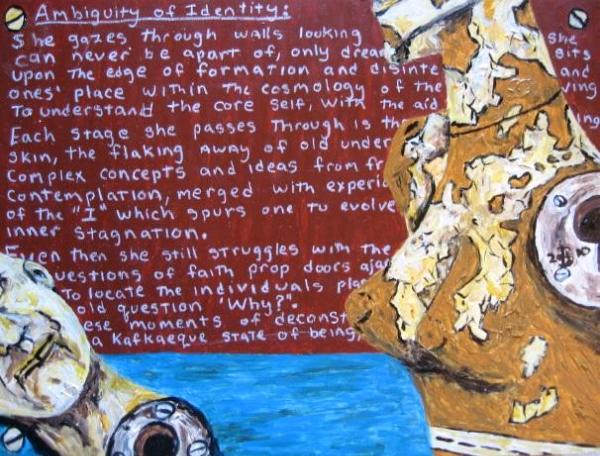 Mannikin Dreams: Ambiguity of Identity
$325
Mannikin Dreams: Ambiguity of Identity

© 2010 by Duane Kirby Jensen, 9 x 12 x 2 mixed media cradled claybord
Mannikin Dreams: Ambiguity of Identity
She gazes through walls looking wishfully upon a landscape she can never be apart of, only dream of running through. She sits upon the edge of formation and disintegration of identity and ones' place within the cosmology of the universe while striving to understand the core self, without the aid of being human.

Each stage she passes through is the equivalent of shedding skin, the flaking away of old understandings and beliefs as more complex concepts and ideas form upon fresh input of data and contemplation, merged with experience that lead to the modification of the "I" which spurs one to evolve away from a path of inner stagnation.

Even then she still struggles with the ambiguity of identity made more so as questions of faith prop doors ajar for one to gaze through, in an attempt to locate the individuals place within the universe and answer the age old question 'Why?".

It is at these moments of deconstructing the self that it is easy to be sucked into a Kafkaesque state of being, to experience a sense of disengagement from ones body as if one were looking over their own shoulder, a silent witness to fate unfolding, wondering if this is divinity's' will and if one can ever truly have free will, or if that premise is the greatest masquerade of all.
Be the first to
post a comment
.