Click an image to enlarge

2009: The Large and Small of it.
I love the challenge of painting within a smaller format, while retaining the intensity found in larger work. I came across 5 x 7 Claybord panels, at Daniel Smith art supply, and quickly became intrigued by their possibilities. This resulted in a series of intense close-ups.

I have a love of language, as many of my titles would attest to. It was only natural that my paintings would evolve towards the incorporation of words. When I use words I want them readable, but also to merge organically within a painting and not feel forced. The merging of words and images was spurred on when I was asked to participate in Art of the Written Word, July, 18-August 2, 2009 , at Lowell Art Works, 5205 S. 2nd Ave., Everett, WA 98203.
My largest painting to date, a 48 x 60 canvas, was created for Puff, it is entitled: The Fire-crow Unleashes Words of Love, Loss, and Longing that Awakening Quivers of Ecstasy and Angst.
The continuation of my smoking series gained renewed emphasis when I was asked to participate in Puff: The Art, Allure and Agony of the Smoking Culture, November 21st-December 20th, 2009 at Lowell Art Works, 5205 S. 2nd Ave., Everett, WA 98203.
Duane Kirby Jensen
---
Please note: All paintings are sold unframed.
The artist retains reproduction rights on all paintings/sketches/images created purchased and purchased.
---
All Paintings in this album © 2019 By
Duane Kirby Jensen
.
Débora Listens for Her Loves Approaching Footsteps as the Clock Strikes Midnight and a New Year Awakes.
$600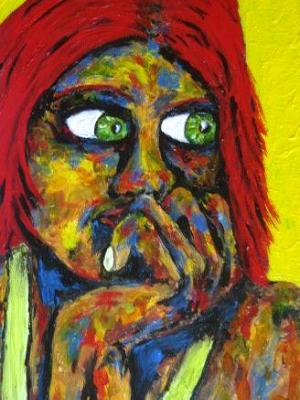 She Watches the World Rush By, Hoping and Dreading that He Will Emerge From the Chaos and Take Her into His Strong Arms.
$250 (sold)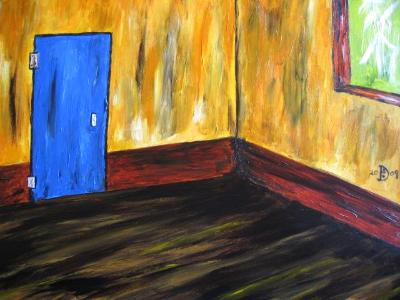 He Leans Heavily Against the Far Wall, Thinking of Her, Remembering Her Laughter and Those Days when His Heart was still Warm.
Contact for price
Be the first to
post a comment
.